PACWAVE is an open ocean WAVE ENERGY TESTING facility
at Oregon State University.  It consists of two sites, each located just a few miles from the deep-water port of Newport, Oregon. Both PacWave sites are highly accessible and served by a diverse maritime supply chain.
PACWAVE NORTH is an established site for WAVE ENERGY TESTING
consisting of an autonomous test site for small-scale, prototype, and maritime market technologies. PacWave North is located 2 miles off the Pacific Coast near Newport, Oregon. PacWave North offers a site in state waters with streamlined permitting; expected time to permit is under one year. The site is shallower than PacWave South and closer to port. PacWave North is a persistently monitored site (wave, met, ocean measurements, and habitat surveys).
PACWAVE SOUTH WILL OFFER PRE-PERMITTED, GRID-CONNECTED WAVE ENERGY TESTING
in a high-energy, open ocean environment. Located 7 miles off the Pacific coast near Newport, Oregon, the PacWave South facility features consistent, energetic waves and steady winds — ideal for testing survivability and energy production.
PacWave South's pre-permitted site offers multiple advantages. The time consuming and expensive regulatory process is done in advance of construction and applicable to all wave energy device types expected — saving potentially millions of dollars and allowing optimization of designs more rapidly.
Oregon State University has partnered with the U.S. Department of Energy and other stakeholders to build a wave energy test facility located off the Oregon Coast, between Newport and Waldport, called PacWave.
Read More
Burke Hales, professor at the College of Earth, Ocean, and Atmospheric Sciences at OSU, talks about the project.
Listen Here
On May 30, 2019 OSU submitted the Final License Application (FLA) to FERC for PacWave South. This is the culmination of over 5 years of effort working and negotiating with multiple agencies and stakeholders in Oregon and beyond, and this FLA represents a model for permitting of future ocean energy projects.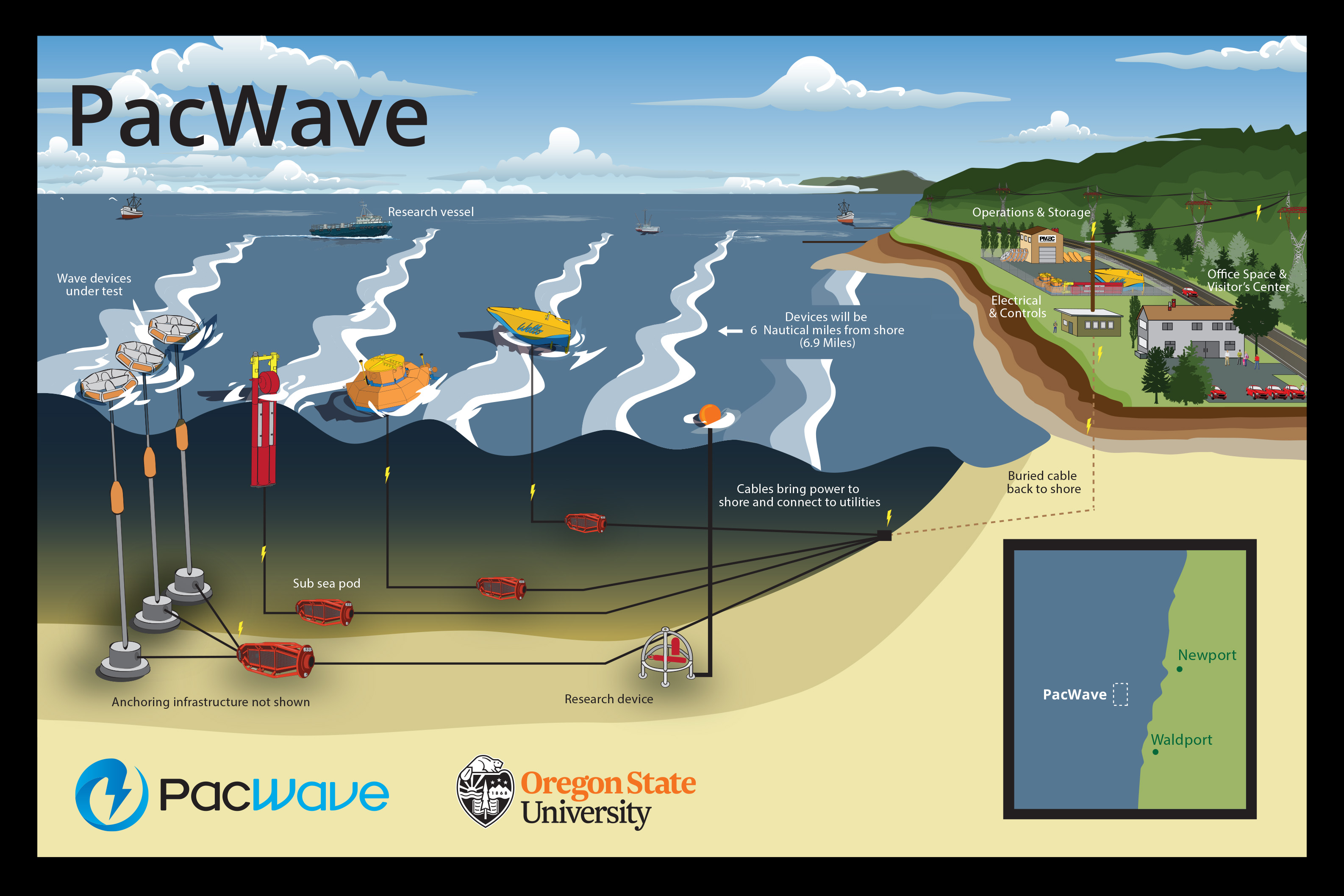 A GRID CONNECTED TEST SITE
The PacWave South site offers multiple advantages.
All necessary infrastructure including electric cables, data cables and an on-shore grid connection station, providing a one-stop shop for companies developing wave energy converters.

The facility will be able to test up to 20 wave energy converters in four berths, allowing different technologies to be tested at the same time, with a maximum power output of up to 20MW.

Each berth will have a dedicated, 5MW-capable power and data transmission cable connection to an onshore grid-connection station.